Courtesy of FMF Racing
FMF Racing's Davi Millsaps Captures 2nd Place Overall in the 2013 Supercross Series
As the last firework exploded over Sam Boyd Stadium to signal the end of the 2013 Supercross Series, FMF's very own Davi Millsaps celebrated yet another podium finish to help him secure 2nd in the overall championship point standings. With a season that saw him collect an astonishing 12 podiums and 2 wins, Davi has a lot to be happy about and we here at FMF couldn't be more proud of him. With his FMF Factory 4.1 equipped Rockstar Energy Racing race bike getting results on the track, and his signature DM18 FMF T-Shirt line scoring style points for him off the track, Davi helped embody the FMF philosophy: "Style For Days…Motocross Forever." Congrats on a great season Davi!
About FMF Racing
Established in 1973, FMF Racing is one of the most dominant and influential brands in the world of Off-Road Motocross Racing. Founded by Don Emler in his Hawthorne, CA garage, the brand's steadfast dedication to supporting the sport, along with its athletes and partners, has earned the respect and loyalty of industry consumers and insiders. From cutting-edge design to efficient manufacturing, sourcing, marketing, operations and distribution, FMF strives to elevate performance in every facet of the business. FMF Racing's iconic red-and-yellow logo is still fueling the growth and passion for the sport of motocross more than 37 years later, expanding its collection of performance products and apparel. The family-owned and operated company also features top level world-class race teams that continue to dominate the podium at events around the globe. For more information, please visit www.fmfracing.com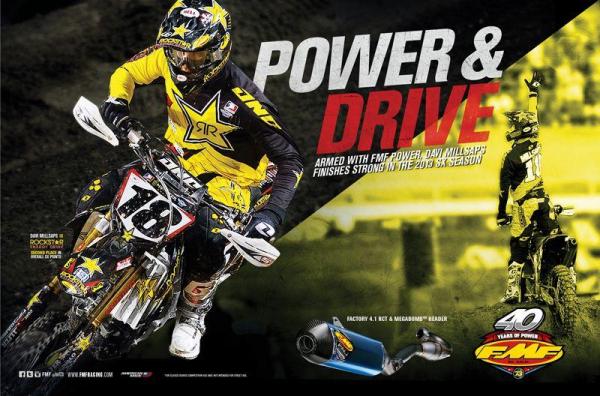 Was this post helpful? Add yours to our service or subscribe to our feed above.