Courtesy of GNCC Racing
Josh Toth Claims Fifth XC2 250 Pro Victory of the Season
SOCIETY HILL,
S.C. (April 23, 2017) - The 2017 AMSOIL Grand National Cross Country (
GNCC
) Series presented by Maxxis, an AMA National Championship, continued today, April 23, with the second annual CST Tires Camp Coker Bullet GNCC. At the conclusion of the seven-lap race it was FMF/KTM Factory Racing's Kailub Russell who took home the win in Society Hill, South Carolina.
Rockstar Energy/Factory Husqvarna Racing's Josh Strang jumped out to the early lead grabbing his third $250 All Balls Racing Holeshot Award of the year. N-Fab/AmPro Yamaha's Ricky Russell accompanied Strang as they headed out of the first turn.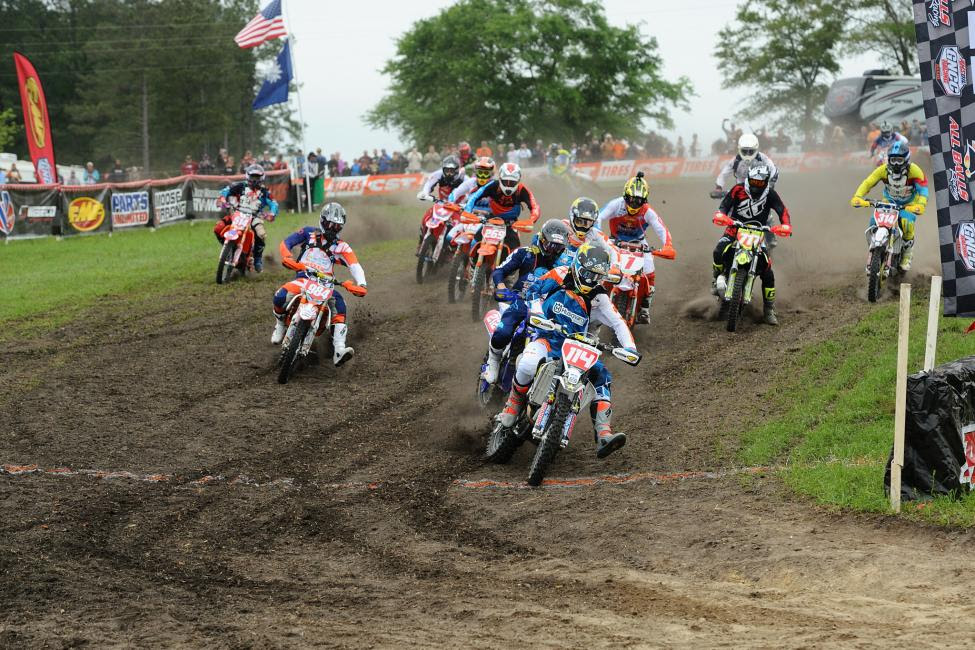 Strang's teammate, Thad Duvall, also got off to a favorable start and made his way to the lead position by the two-mile mark. Duvall continued charging where he began to pull a gap on Strang and R Russell.
R Russell made the pass for second on the Camp Coker motocross track, and by this time K Russell wasn't far behind the podium contenders. Strang would also lose another position in the sand rollers to K Russell who was moving through the pack quick. By the conclusion of the second lap K Russell sat in second while Duvall maintained control of the lead.
Duvall and K Russell maintained a consistent 20 second gap between themselves on the second lap, while R Russell found himself in a heated battle with Beta USA's Jordan Ashburn. Before long, SRT/KTM's Steward Baylor also found himself in the mix with R Russell and Ashburn.
R Russell succumbd to the pressure of Ashburn in the final second of the moto track. With a semi-clear path, Ashburn began to separate himself from Baylor who now rode in fourth.
K Russell began to gain on Duvall around the mid-way point of the race after the dup both stopped for a regular pit stop. With much of the focus on Duvall and K Russell, Baylor managed to slide his way into a podium position and begin to make up for lost time.
Once the two-lap board was out, Duvall and K Russell were rubbing plastic as they approached the pro pits. K Russell made the pass for the lead, but pulled in his pit for a splash of gas, while Duvall neglected to stop where he took back over the lead.
With only four miles remaining in the race, K Russell stole the lead away from Duvall. After leading the past six laps, Duvall didn't stop the fight until disaster struck and he ran out of gas on the motocross track. A KTM crew member was quick to help Duvall and he was back on-track before Baylor could catch up.
Duvall rode the next mile until approaching his team members who gave him another quick fill up to get him through the rest of the course. After following Duvall the whole race, K Russell crossed the finish line in a champion fashion, taking his fourth-straight overall win. Duvall and Baylor rounded out the overall podium.
As a result of a rule violation, the overall results from today are provisional and pending approval of additional evidence. R Russell had his best finish of the season where he finished just off the podium in fourth. After getting the holeshot, Strang rounded out the top-five overall.
"It was a good day, I just wasn't flowing at the beginning, those guys gapped me in the first lap and a half and once I got to second I knew I was going to have my work cut out for me, but I just put my head down and kept charging," said K Russell. "I went to work all day, chipped away at it and never gave up. Thad was riding well so it's going to be an interesting rest of the season for sure. These guys are keeping me on my toes and making me strive a little harder so it's time to raise the bar again and it's time to get better."
The XC2 250 Pro division saw some of the closest racing action all day. In the end it would be the N-Fab/AmPro Yamaha rider Josh Toth taking his fifth win of the season. Solid Performance KTM's Jesse Groemm made his way back to the podium in second, and Coastal Racing/Husqvarna's Craig Delong worked his way from outside the top ten to round out the overall podium in third.
The FMF XC3 125 Pro-Am class podium had a shake-up with Jason Thomas taking the top spot on the box. Thomas excelled under pressure from Coastal Racing/Husqvarna and current points leader Jack Edmondson who had to settle for second. SRT/KTM's Mark Heresco Jr. followed in third.
Cody Barnes finished 23rd overall along with his 250 A class win, a result that was good enough to earn him the top amateur honors.
The WXC class made a clean sweep for the overall podium in the
10 a.m.
race. Rocky Mountain ATV*MC/KR4/Husqvarna's Tayla Jones remains undefeated with five wins. Fly Racing/Maxxis/Seat Concepts/KTM's Becca Sheets and Trail Jesters/KTM's Mackenzie Tricker rounded out the overall podium.
The first race of the day was the
8 a.m.
youth division where Zack Davidson took his fifth-straight overall win after chasing down Peyton Whipkey who finished second. Super Mini Jr. (12-13) class winner Michael Beeler Jr. followed with third overall.
The
1 p.m.
race was broadcast LIVE in its entirety on RacerTV.com and can be viewed as an archived video now online by visiting the
GNCC LIVE
page online. A highlight show featuring the event will air
Sunday, June 11
, at
3 p.m.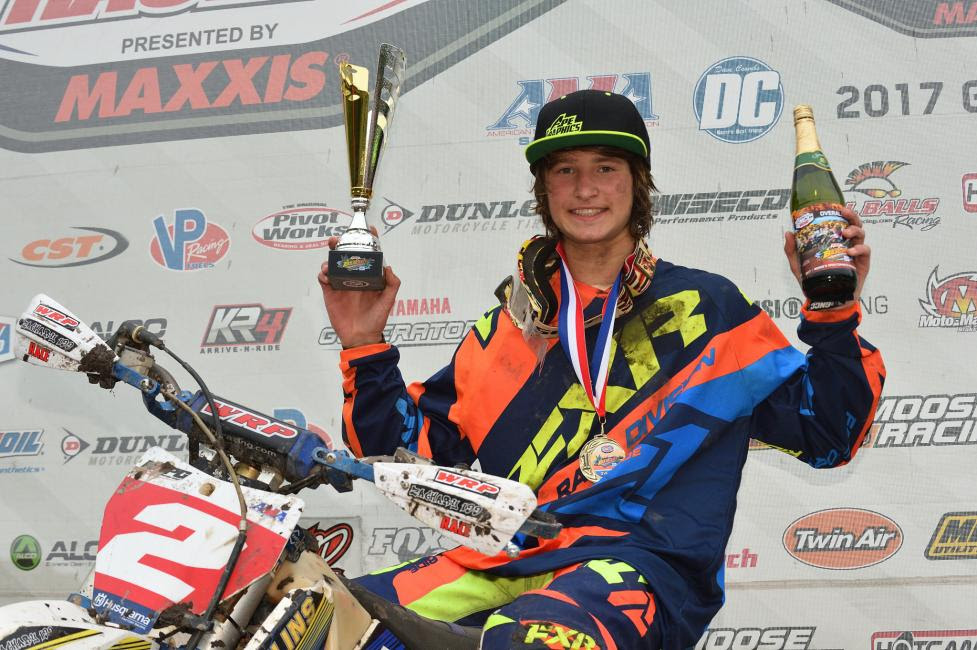 The 2017 AMSOIL Grand National Cross Country Series resumes
May 6 and 7
with the inaugural X-Factor GNCC in Peru, Indiana.
CST Tires Camp Coker Bullet GNCC
Society Hill, South Carolina
Round 5 of 13
Sunday
, April 23
XC1 Open Pro Event Results:
Kailub Russell (KTM)
Thad Duvall (HSQ)
Steward Baylor (KTM)
Ricky Russell (YAM)
Josh Strang (HSQ)
Jordan Ashburn (BET)
Grant Baylor (HSQ)
Russell Bobbitt (KTM)
Ryan Sipes (HSQ)
Trevor Bollinger (HON)
*Overall National Championship Standings:
Kailub Russell (145)
Steward Baylor (114)
Thad Duvall (100)
Ricky Russell (75)
Josh Toth (74)
Trevor Bollinger (57)
Jordan Ashburn (56)
Russell Bobbitt (54)
Grant Baylor (53)
Josh Strang (46)
*Indicates that the Overall National Championship Standings will determine the 2017 National Champion.
XC2 250 Pro Event Results:
Josh Toth (YAM)
Jesse Groemm (KTM)
Craig Delong (HSQ)
Layne Michael (HSQ)
Mike Witkowski (KTM)
Ben Kelley (KTM)
Zack Hayes (KTM)
Dylan Macritchie (KTM)
Trevor Barrett (YAM)
Brendan Riordan (YAM)
XC2 250 Pro Series Standings:
Josh Toth (140)
Craig Delong (101)
Mike Witkowski (92)
Jesse Groemm (92)
Layne Michael (92)
Austin Lee (68)
Zack Hayes (67)
Ben Kelley (63)
Trevor Barrett (48)
Sam Evans (41)
FMF XC3 125 Pro-Am Event Results:
Jason Thomas (HSQ)
Jack Edmondson (HSQ)
Mark Heresco Jr. (KTM)
Devan Welch (YAM)
Hunter Neuwirth (HSQ)
Josh Adkins (YAM)
Jaryn Williams (YAM)
FMF XC3 125 Pro-Am Points Standings:
Jack Edmondson (145)
Jason Thomas (126)
Mark Heresco Jr. (91)
Hunter Neuwirth (86)
Paul Whibley (67)
Jaryn Williams (65)
Josh Adkins (58)
Devan Welch (45)
Dustin Gibson (43)
Nate Smith (29)
About GNCC Racing
The AMSOIL Grand National Cross Country Series presented by Maxxis is America's premier off-road racing series. Founded in 1975, the 13-round championship is produced exclusively by Racer Productions. Cross-country racing is one of the most physically demanding sports in the world. The grueling three-hour GNCC races lead as many as 2,400 riders through tracks ranging in length from eight to 12 miles. With varied terrain, including hills, woods, mud, dirt, rocks and motocross sections, GNCC events are tests of both survival and speed. The series draws talent from all over the U.S., Central America, South America, Europe, Japan, Australia and New Zealand. GNCC Racing is televised weekly on NBC Sports and
RacerTV.com
. For more information, please visit
www.gnccracing.com
.
About the American Motorcyclist Association
Founded in 1924, the AMA is a not-for-profit member-based association whose mission is to promote the motorcycle lifestyle and protect the future of motorcycling. As the world's largest motorcycling rights and event sanctioning organization, the AMA advocates for riders' interests at all levels of government and sanctions thousands of competition and recreational events every year. The AMA also provides money-saving discounts on products and services for its members. Through the AMA Motorcycle Hall of Fame in Pickerington, Ohio, the AMA honors the heroes and heritage of motorcycling. For more information, visit
www.americanmotorcyclist.com
. Not a member? Join the AMA today:
www.americanmotorcyclist.com/membership/join
.
Was this post helpful? Add yours to our service or subscribe to our feed above.