Courtesy of GNCC Racing
Brycen Neal Searches for Overall Win at Hometown Race
MORGANTOWN,
W.Va (July 3, 2017) - The 2017 AMSOIL Grand National Cross Country (
GNCC
) series presented by Maxxis, an AMA National Championship continues this weekend,
July 8 and 9
, with the 28th Annual Wiseco John Penton GNCC. This event not only pays tribute to the legendary John Penton who pioneered numerous modern advancements in the world of off-road racing, but also stands out as the longest running event on the GNCC circuit.
Coming just two weeks after the grueling AMSOIL Snowshoe GNCC, The John Penton GNCC marks the final round before the GNCC summer break. This has the potential to make for a fierce battle as numerous riders will be looking to carry the momentum of an overall win into that summer break, setting them up as a favorite when the series returns in September.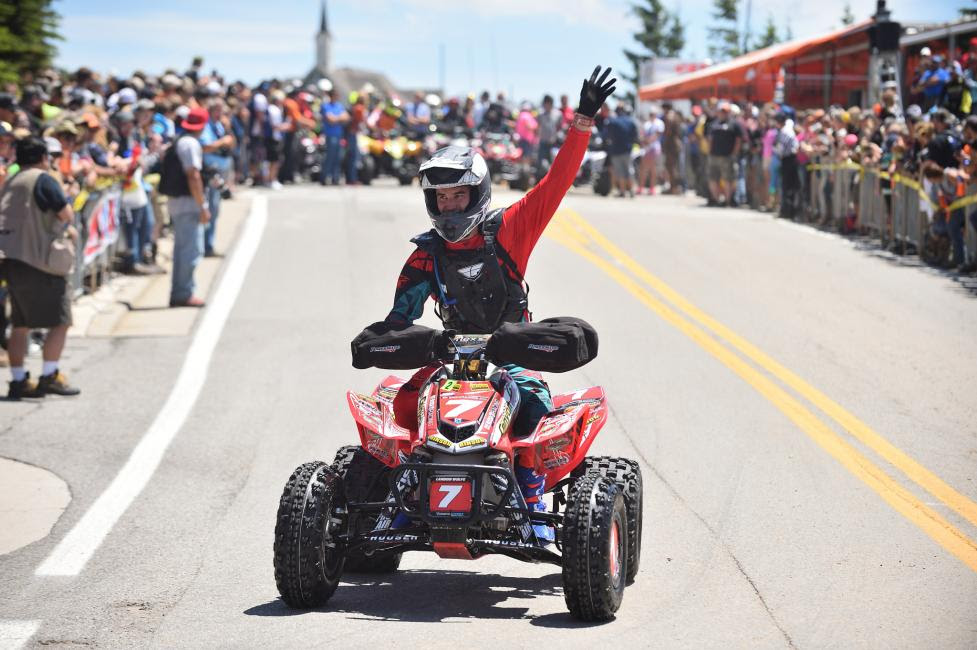 WFR/Yamaha/Maxxis/Fly Racing's Walker Fowler maintains a strong 76-point lead in the hunt for the 2017 GNCC ATV National Championship. Fowler was able to extend this lead at the previous round by claiming yet another overall win, marking seven wins in eight rounds for the Ohio native. Historically, The John Penton GNCC has been a successful event for Fowler who has claimed the overall win at this event for the past three seasons and ultimately enters 2017 looking for win number four.
After some tough luck at the previous round, CST/Induction Solutions/LSR/HiPer/Spider Graphix's Adam McGill will be hoping to rebound this weekend and attempt to chop away at Fowler's points lead. Currently sitting second place in the point standings, McGill has yet to claim an overall win at The John Penton in his XC1 career, but will certainly be motivated to claim a win heading into the summer break.
Six-time GNCC ATV National Champion, Chris Borich, enters this weekend with a long history of numerous wins at The John Penton GNCC having claimed a total of six overall wins at The John Penton. While it's been since the final round in 2014 that we've seen Borich claim an overall win, he's still very much a contender and very well could return to the center of the podium at a venue he knows so well.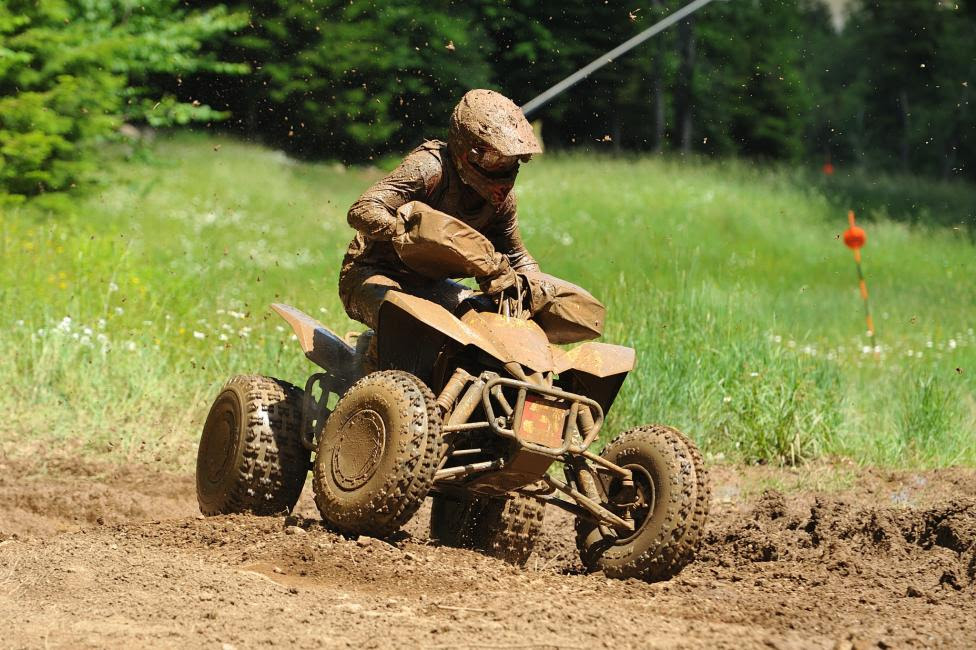 With the exception of a couple of races with some bad luck, Coastal Racing's Brycen Neal has seen a fairly consistent season with four podium finishes and two additional top-fives. Considered to be a hometown favorite, hailing from just around one hour away from The John Penton facility, an overall win here would make a very special weekend. However, it would be even more special considering that Neal is still hunting for his first-ever overall win.
JMR/ATVriders.com's Jarrod McClure and GBC/Canyon Motorsports/Fly Racing's Landon Wolfe head into this weekend with a tight battle in the championship hunt where only two-points separate them. McClure's season has been up and down thus far with a pair of podium finishes and three additional top five finishes, but some tough luck has also put him outside of the top ten on occasion. Wolfe has consistently been inside the top ten throughout the season but is still looking for his first podium finish of the season.
M.R. Unlimited/Hygear Suspension/GBC Tires/Tire Spine's Devon Feehan continues to lead the way in the XC2 Pro-Am class points with a 19-point lead over defending class champion, Hygear Suspension's Greg Covert, while Ithaca Recreation/Maxxis/Quad Tech/Storm Peak Crossfit's Hunter Hart sits just nine additional points behind Covert. The XC2 Pro-Am class has been fiercely competitive this season with all three of the aforementioned racers claiming class wins so far this season. While Feehan has a sizable lead, Covert and Hart could both potentially chip away at that lead by stepping up and pushing ahead this weekend.
Saturday's
race schedule is as follows: Youth ATV racing begins at
8 a.m.
, followed by amateurs, 4x4 Pro and Women at
10 a.m.
, and the pros and top amateurs race at
1 p.m.
Following
Saturday's
afternoon race will be Side-by-Side racing taking place at
4:00 p.m.
Adult (12+) gate admission is $20 for the full weekend and $10 for kids (6-11), with kids five and under free. Gate admission includes pro pit access and pro autographs at no additional charge.
The event is co-sanctioned with
WEXCR
, a series that produced local racing events across Indiana, and will ultimately bring out a full slate of local racers. All local riders are invited and encouraged to compete in the event, as GNCC Racing offers classes for riders of all skill and experience levels. The amateur race entry fee is $40 if racers
pre-enter
, and $50 if riders sign up at the track. To learn more about GNCC Racing, refer to the
GNCC 101
webpage.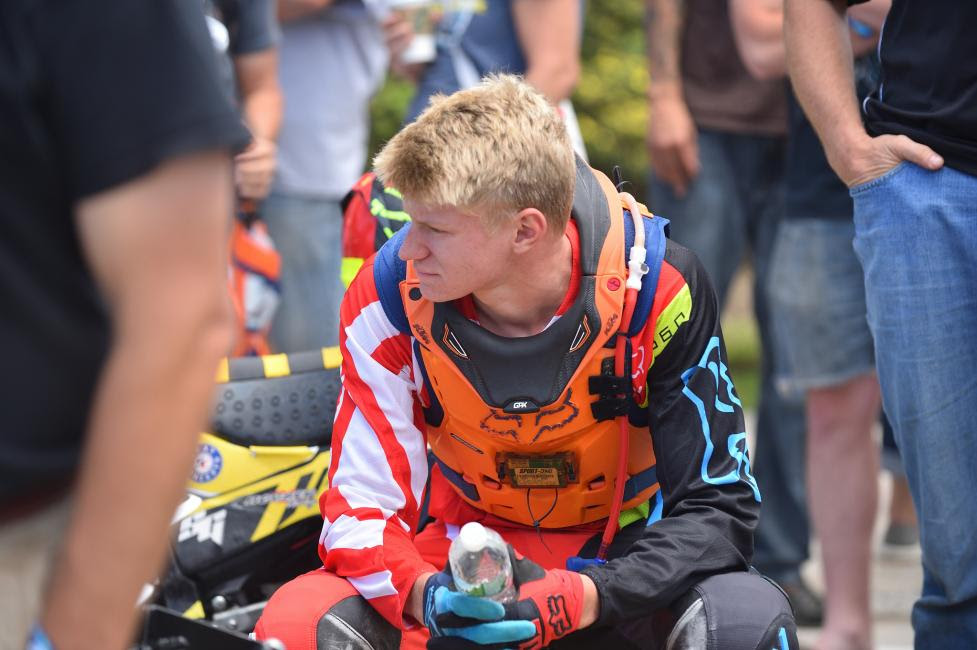 The local racers expected to compete Saturday on ATVs will be: Ayden Konkler (Super Mini 12-15), Hunter Cowan (Schoolboy Jr. 13-15), Brycen Neal (XC1 Pro), Sydney Cain (Super Mini 12-15), Jacob Scott (College A 16-21), Casey Simmons (Super Mini 12-15), Colton Buck (Super Mini 12-15), Cody Collier (XC1 Pro) and David Rutter (Vet B 30+).
Ohio side-by-side residents competing
on Saturday
afternoon will be: Kyle Chaney (XC1 Pro), Dulton Schmidt (Amateur Modified), Jeremy Wallis (XC3 Pro-Am), Cole Secoy (XC1 Pro), Matthew Keesee (XC3 Pro-Am), Michael Wittekind (Lites) and Reece Nutter (XC3 Pro-Am).
For a complete schedule of the weekend's activities, please visit the Wiseco John Penton GNCC event page on the series website by clicking
HERE
.
Tune in to RacerTV.com
on Saturday
at
1:00 p.m. EST
to catch LIVE streaming of the Pro ATV race, and again at
4 p.m.
for the UTV race. For more information on GNCC LIVE coverage visit
www.racertv.com
. A highlight show featuring the event will air on NBC Sports Network on Saturday, October 14 at 2:30 p.m.
The AMSOIL Snowshoe GNCC
Snowshoe, West Virginia
Round 8 of 13
Saturday, June 24
XC1 Pro Event Results:
Walker Fowler (YAM)
Kevin Yoho (YAM)
Chris Borich (SUZ)
Brycen Neal (YAM)
Brian Wolf (HON)
Cody Collier (YAM)
Landon Wolfe (HON)
Jarrod McClure (HON)
Marty Christofferson (HON)
Brent Sturdivant (HON)
*Overall National Championship Standings:
Walker Fowler (235)
Adam McGill (159)
Chris Borich (133)
Brycen Neal (130)
Jarrod McClure (121)
Landon Wolfe (119)
Johnny Gallagher (88)
Marty Christofferson (82)
Devon Feehan (80)
Hunter Hart (79)
*Indicates that the Overall National Championship Standings will determine the 2017 National Champion.
XC2 Pro-Am Event Results:
Brandon Icard (HON)
Greg Covert (YAM)
Devon Feehan (HON)
D. Brown (HON)
Braden Henthorn (HON)
Kenny Shick (YAM)
Gabriel Naud (YAM)
Devin Masters (SUZ)
Taylor Arnold (HON)
Matthew Lindle (HON)
XC2 Pro-Am Series Standings:
Hunter Hart (198)
Greg Covert (179)
Hunter Hart (170)
Matthew Lindle (163)
Brandon Icard (109)
Levi Coen (96)
Kenny Shick (95)
Sam Hough (93)
Austin Abney (88)
Cameron Bruce (70)
About GNCC Racing
The AMSOIL Grand National Cross Country Series presented by Maxxis is America's premier off-road racing series. Founded in 1975, the 13-round championship is produced exclusively by Racer Productions. Cross-country racing is one of the most physically demanding sports in the world. The grueling three-hour GNCC races lead as many as 2,400 riders through tracks ranging in length from eight to 12 miles. With varied terrain, including hills, woods, mud, dirt, rocks and motocross sections, GNCC events are tests of both survival and speed. The series draws talent from all over the U.S., Central America, South America, Europe, Japan, Australia and New Zealand. GNCC Racing is televised weekly on NBC Sports and
RacerTV.com
. For more information, please visit
www.gnccracing.com
.
About the American Motorcyclist Association
Founded in 1924, the AMA is a not-for-profit member-based association whose mission is to promote the motorcycle lifestyle and protect the future of motorcycling. As the world's largest motorcycling rights and event sanctioning organization, the AMA advocates for riders' interests at all levels of government and sanctions thousands of competition and recreational events every year. The AMA also provides money-saving discounts on products and services for its members. Through the AMA Motorcycle Hall of Fame in Pickerington, Ohio, the AMA honors the heroes and heritage of motorcycling. For more information, visit
www.americanmotorcyclist.com
. Not a member? Join the AMA today:
www.americanmotorcyclist.com/membership/join
.
Was this post helpful? Add yours to our service or subscribe to our feed above.