Courtesy of MX Sports
Congratulations to the 2017 Rocky Mountain ATV/MCAMA Amateur National Motocross Champions35 Loretta Lynn National Championships Awarded
MORGANTOWN,
W.Va. (
August 7, 2017
) - The 36th Annual
Rocky Mountain ATV/MC
AMA Amateur National Motocross Championship, presented by
Lucas Oil
, came to a conclusion on Saturday, August 5, at the historic Loretta Lynn Ranch in Hurricane Mills, Tennessee. Thirty-five National Championships were bestowed upon completion of the third set of motos with five dominant riders emerging victorious in two different classes.
The coveted Nicky Hayden AMA Horizon Award is given to the A-class rider who shows the most promise as they prepare to enter the professional ranks. This prestigious honor was awarded to Cycle Trader Rock River Yamaha's Justin Cooper who dominated the Open Pro Sport and 250 A divisions. In addition, Cooper had the fastest lap time of the week, clocking a 1:54.820 time during his third lap of the second Open Pro Sport moto.
The AMA Motocross Youth Rider Award goes to a rider under the age of 16 chosen for his or her performance in the Youth classes at the AMA Amateur National. This year's recipient was Ty Masterpool who claimed both titles in Supermini 1 (12-15) and Supermini 2 (13-16) classes.
The AMA Motocross Amateur Rider Award is designed to recognize an outstanding non-A-class rider at the nationals who is ready to make an immediate impact in A-class competition. Kawasaki Team Green rider Garrett Marchbanks earned this award with his dual first place finishes in both 250 B and Schoolboy 2 (12-17) B/C.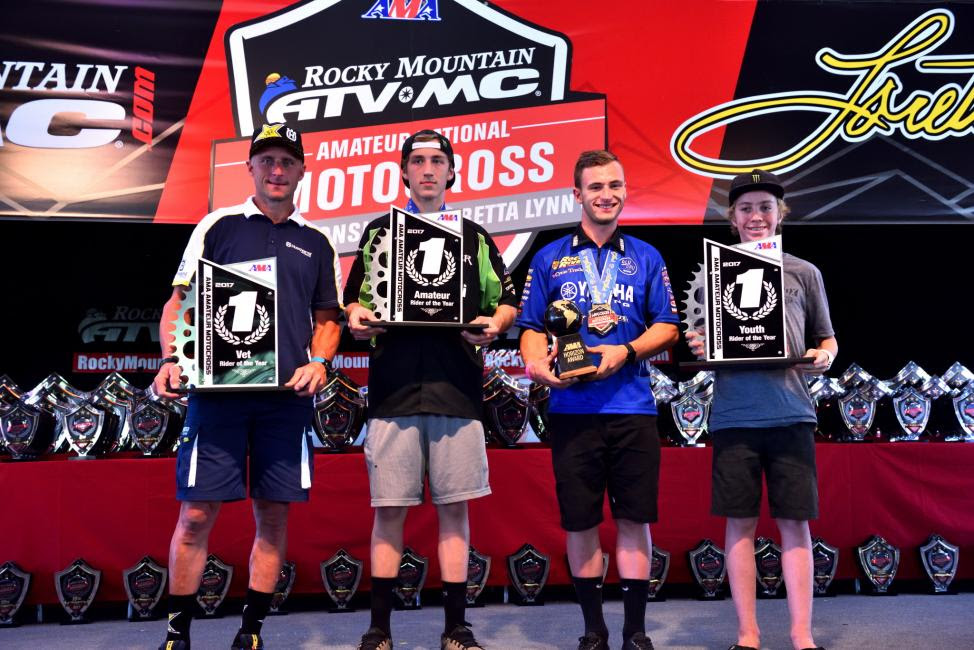 The AMA Motocross Vet/Senior Rider Award acknowledges an outstanding rider over the age of 30. Results from all Vet classes are taken into consideration when selecting the winner. In this ultra-competitive division, Tennessee native and Husqvarna's Mike Brown proved to be a front-runner by capturing all six-moto wins in the Junior (25+) and Senior (40+) divisions.
California added yet another State Championship award to the books by having the most racers out of any other state to win overall titles. California claimed six National Championships between Ryder DiFrancesco, Jett Reynolds, Tanner Basso, Derek Drake, Wyatt Thurman and Haiden Deegan. This brings the Golden State's state championship tally to 23 of the 36 years the award has been bestowed.
Returning to the Ranch was Georgia Practice Facility (
GPF
) who teamed up with
On Track School
to provide two lucky racers a full academic and athletic scholarship ride. The program encourages athletes competing at this high level to do so while continuing to receive an accredited education. Applicants submitted an essay detailing why the scholarship program would benefit them and their family, and how it would help them achieve their educational goals. Palmer Neely and Jordan Renfro outshined the rest of the applicants and will be enrolling in one of the On Track School educational programs, along with full access to the GPF facilities, for the 2017-2018 school year. Accompanying the scholarship award was the tenth annual On Track School Graduation Ceremony where all alumni were recognized for their academic achievements.
South of the Border MX (
SOBMX
) also partnered with On Track School for the inaugural Chris and Cody Gragg Memorial Scholarship. Privateer racer, Cody, and his father, Chris, were tragically killed when they were traveling to a GNCC race in Georgia earlier this year, but their legacy still lives on in the racing world. Applicants also submitted an essay describing how their relationship with their dad is an intregral part of their life. Dylan Kucowski was presented the scholarship which includes access to SOBMX and the On Track School for 2017-2018.
RacerTV.com
provided an unprecedented 46.5 hours of LIVE race coverage throughout the week, resulting in over 269,000 live views. The archived footage is now available for viewing
HERE
. In addition, two one-hour highlight shows featuring the event will air on NBC Sports Network on
Saturday, November 11 at 2:30 p.m.
and
Saturday, December 23 at 3:00 p.m. EST
.
MX Sports wishes to thank everyone who participated in the Loretta Lynn National program, and congratulates all the 2017 Champions on their accomplishments.
2017 AMA Amateur National Motocross Champions
Open Pro Sport
Justin Cooper
Cold Spring Harbor, NY
250 A
Justin Cooper
Cold Spring Harbor, NY
250 B Limited
Derek Drake
San Luis Obispo, CA
250 B
Garrett Marchbanks
Coalville, UT
250 C Limited
Stockton Stinebaugh
Caddo Mills, TX
250 C Jr. (12-17) Limited
Rene Rodriguez
Layton, UT
250 C
Stockton Stinebaugh
Caddo Mills, TX
450 B Limited
Ezra Hastings
Aurora, IN
450 B
Brock Papi
Groveland, FL
450 C
Wesley Allen
Fairfax, SC
125 (12-16) B/C
Carter Biese
Appleton, WI
125 C
Jeffrey Champers
Punta Gorda, FL
College (18-24)
Tanner Basso
Alpine, CA
Junior 25+
Mike Brown
Bluff City, TN
Vet 30+
Taylor Painter
Cleburne, TX
Senior 40+
Mike Brown
Bluff City, TN
Senior 45+
Jay Wagner
Warsaw, IN
Masters 50+
John Grewe
Rockford, MI
51cc (4-6) Special Limited
Roxyn Rinehart
Anniston, AL
51cc (4-6) Shaft Drive Limited
Landon Palmer
Hammonton, NJ
51cc (4-6) Limited
Wyatt Thurman
Temecula, CA
51cc (7-8) Limited
Drew Adams
Chattanooga, TN
65cc (7-9) Limited
Kade Johnson
Hideaway, TX
65cc (10-11) Limited
Casey Cohran
Cullodgen, GA
65cc (7-11)
Haiden Deegan
Temecula, CA
85cc (9-11) Limited
Ryder DiFrancesco
Bakersfield, CA
85cc (9-12)
Jett Reynolds
Bakersfield, CA
Mini Sr. 1 (12-13)
Matthew LeBlanc
Breaux Bridge, LA
Mini Sr. 2 (12-14)
Kaeden Amerine
Great Bend, KS
Super Mini 1 (12-15)
Ty Masterpool
Paradise, TX
Super Mini 2 (13-16)
Ty Masterpool
Paradise, TX
Schoolboy 1 (12-16) B/C
Mason Gonzales
Fort Walton Beach, FL
Schoolboy 2 (12-17) B/C
Garrett Marchbanks
Coalville, UT
Girls (11-16)
Tayler Allred
Riverton, UT
Women (12+) Amateur
Hannah Hodges
Deland, FL
2017 AMA Specialty Award Winners
Nicky Hayden AMA Horizon Award
Justin Cooper
Cold Spring Harbor, NY
AMA Amateur Rider of the Year
Garrett Marchbanks
Coalville, UT
AMA Youth Rider of the Year
Ty Masterpool
Paradise, TX
AMA Vet Rider of the Year
Mike Brown
Bluff City, TN
Chris & Cody Gragg Memorial
Dylan Kucowski
New Egypt, NJ
About the Rocky Mountain ATV/MC AMA Amateur National Motocross Championship
The Rocky Mountain ATV/MC AMA Amateur National Motocross Championship is the world's largest and most prestigious amateur motocross racing program. The national qualifying program consists of 57 Area Qualifiers (February through May) and 13 Regional Championships (May through June), hosted at select motocross facilities across the country. The qualifying system culminates in the National Final (first week in August) hosted annually since 1982 at the home of country music star Loretta Lynn in Hurricane Mills, Tenn. Nearly 22,000 racers attempt to qualify in 35 classes for the 1,446 available positions at the National. Christened "The World's Greatest Motocross Vacation", the National event serves as a launch pad for some of the biggest names in professional motocross and supercross, including Ricky Carmichael, James Stewart, Ryan Villopoto, and Ryan Dungey. The national program is produced by MX Sports, Inc., a West Virginia-based race production company and sanctioned by AMA. For more information, please visit
www.mxsports.com
.
About the American Motorcyclist Association
Founded in 1924, the AMA is a not-for-profit member-based association whose mission is to promote the motorcycle lifestyle and protect the future of motorcycling. As the world's largest motorcycling rights and event sanctioning organization, the AMA advocates for riders' interests at all levels of government and sanctions thousands of competition and recreational events every year. The AMA also provides money-saving discounts on products and services for its members. Through the AMA Motorcycle Hall of Fame in Pickerington, Ohio, the AMA honors the heroes and heritage of motorcycling. For more information, visit
www.americanmotorcyclist.com
. Not a member? Join the AMA today:
www.americanmotorcyclist.com/membership/join
.
-MXS-
Was this post helpful? Add yours to our service or subscribe to our feed above.