Courtesy of ATVMX
Wiseco ATV Motocross Championship Results: Loretta Lynn's NationalJoel Hetrick Claims First-Ever National Title
HURRICANE MILLS,
Tenn. (
August 13, 2017
) - The 2017 Wiseco ATV Motocross National Championship (
ATVMX
) presented by CST Tires, an AMA National Championship, came down to the wire this weekend at the season finale from legendary Loretta Lynn's Ranch. Just 11 points separated the top two riders in the AMA Pro ATV standings - Maxxis/Elka/Liquid Wrench/Honda's Joel Hetrick and Wienen Motorsports/SSi Decals/Walsh Racecraft/Yamaha/Maxxis/7240's Chad Wienen - and their season-long battle came all the way down to the final checkered flag. Chasing his first-ever championship, Hetrick rose to the occasion and outdueled Wienen to capture the coveted title.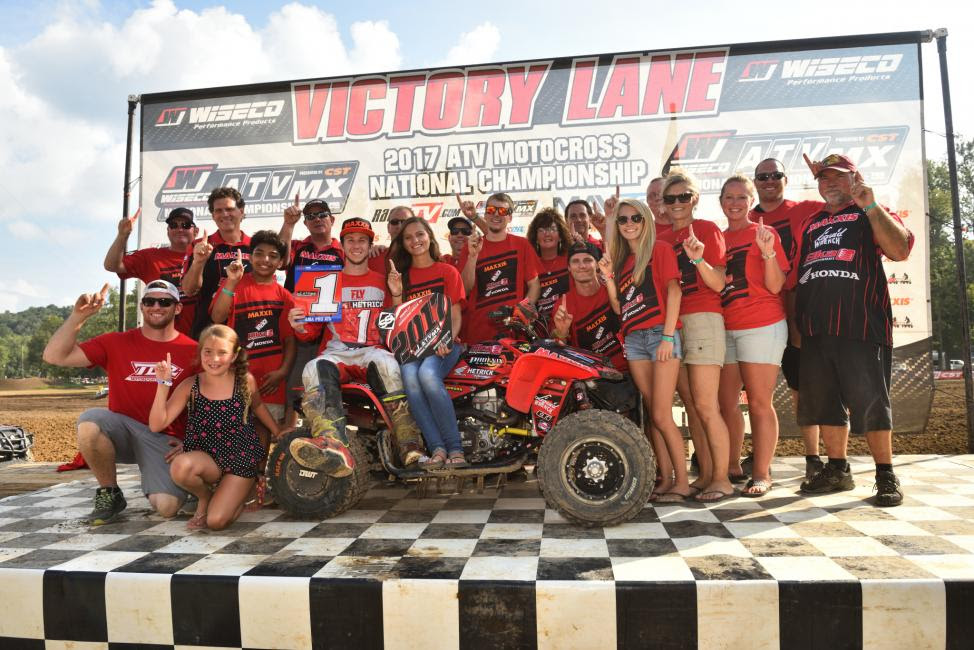 A sense of excitement and tension filled the air as the AMA Pro ATV field took to the track yesterday. Wienen undoubtedly felt ready for the challenge that lied ahead and responded by doing what he's done virtually all season, capturing the ATVRiders.com Top Qualifier for the fifth time and tying Hetrick for the $1,000 winner bonus of that in-season points battle.
When the first moto got underway, Hetrick kept his holeshot trend going, and raced his way to another SSi Decals Holeshot Award. With his main challenger out front, Wienen started to play damage control almost immediately, slotting into third behind of Root River Racing/CST Tires/Pro Motorsports' Thomas Brown.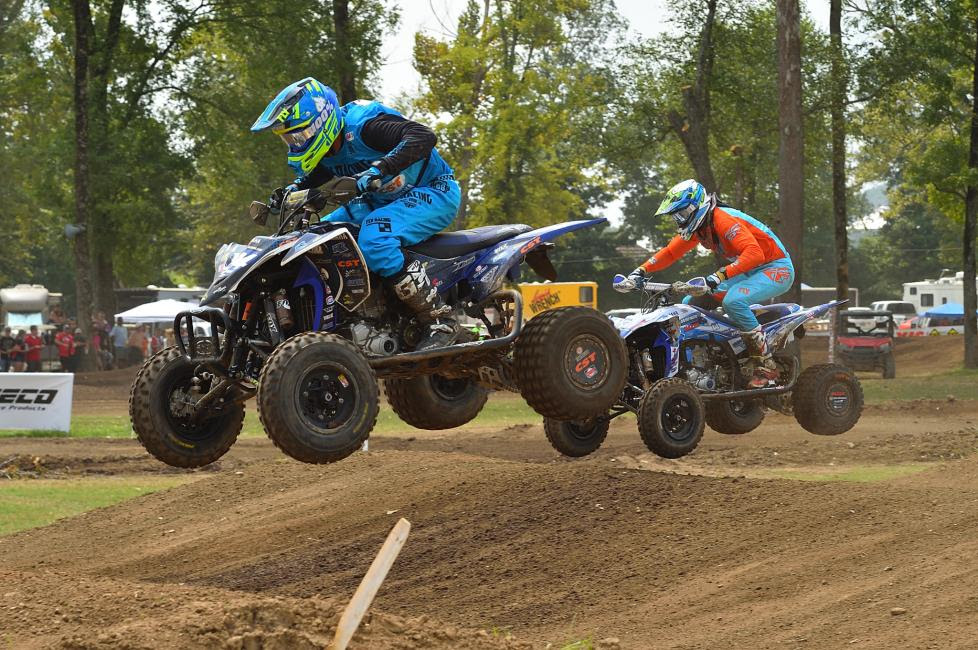 Despite his ability to position himself in a podium spot, Wienen found himself in a heated battle with Brown. It wasn't until the fourth lap that Wienen was able to secure the runner-up spot. Unfortunately by this time, Hetrick already had a large lead and both riders continued to ride a consistent pace through the finish.
Entering the last moto of 2017, a new face emerged out of the first turn, GennUSA Racing's Nick Gennusa rocketed off the line to earn the final SSi Decals Holeshot Award of the season, and his first ever. Gennusa lead the way through the opening lap, but Wienen assumed the top position by the conclusion of the second lap. Hetrick had his work cut out for him, beginning the moto just inside the top five, which forced him to chase down Wienen.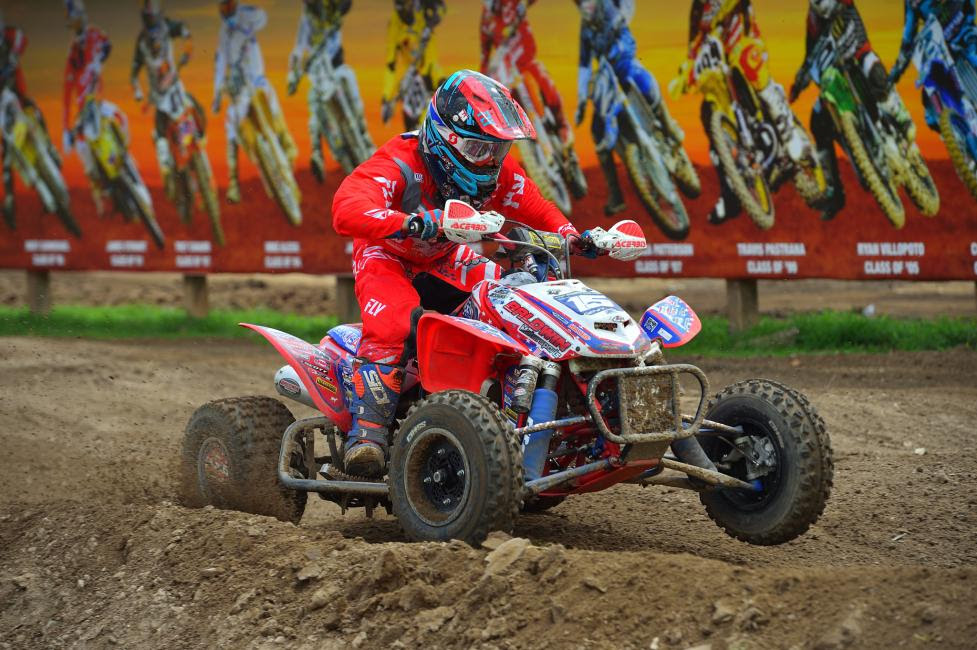 Hetrick quickly moved into a podium position and applied heavy pressure to Gennusa. Gennusa held off Hetrick for the first half of the race until crashing in the infamous "Storyland" section of the track. Hetrick capitalized on Gennusa's misfortune and secured second, but couldn't catch Wienen who had a large gap on the rest of the field. Wienen cruised to victory 25 seconds ahead of Hetrick, who rode untouched in second once he surpassed Gennusa. Brown rounded out the overall podium in third.
Wienen's 2-1 moto results allowed him to edge out Hetrick (1-2) for the overall win on the afternoon, but the win wasn't enough to top Hetrick in the overall points standings where he claimed his first National Championship after a solid season. Hetrick finished the 2017 season with a 11-point edge over Wienen in the final standings, while Brown rounded out the top three championship finishers 102 back of Hetrick. Gennusa ended the championship in fourth (-128), while JB Racing/Root River Racing's Jeffrey Rastrelli (-137) edged out Root River Racing's Josh Upperman (-171) for fifth.
Loretta Lynn National
Hurricane Mills, Tennessee
Round 11 of 12
Saturday
, August 12
2017 AMA Pro Class Event Results:
Chad Wienen (2-1)
Joel Hetrick (1-2)
Thomas Brown (3-3)
Westley Wolfe (5-4)
Nick Gennusa (4-5)
Sam Rowe (7-6)
Josh Upperman (6-8)
Parker Wewerka (9-7)
Brett Musick (8-11)
Cody Janssen (11-10)
Overall National Championship Standings:
Joel Hetrick (445)
Chad Wienen (434)
Thomas Brown (343)
Nick Gennusa (317)
Jeffrey Rastrelli (308)
Josh Upperman (274)
Ronnie Higgerson (250)
Parker Wewerka (241)
Westley Wolfe (235)
Sam Rowe (200)
SSi Decals Holeshot Award Standings:
Joel Hetrick (23)
Nick Gennusa (2)
Cole Sepesi (2)
Josh Upperman (2)
Sam Rowe (2)
Chad Wienen (1)
ATVriders.com Top Qualifier Award Standings:
Joel Hetrick (5)
Chad Wienen (5)
For more information on the Wiseco ATV Motocross National Championship, visit the official series website at
www.atvmotocross.com
. Join the conversation on the series
Facebook
page, follow on
Twitter
and
Instagram
, and be sure to always hashtag #ATVMX.
About the Wiseco ATV Motocross National Championship:
The Wiseco ATV Motocross National Championship presented by CST Tires, an AMA National Championship, is the nation's premier amateur and professional ATV motocross series, hosted at top motocross facilities nationwide. The 10-round series features the Nation's best racers, teams and sponsors, and is America's largest and longest-running ATV national motocross program. Since 1985, the series continues to expand and produce top talent from the amateur ranks, while premiering the professional class. For more information, please visit
www.atvmotocross.com
.
About the American Motorcyclist Association:
Founded in 1924, the AMA is a not-for-profit member-based association whose mission is to promote the motorcycle lifestyle and protect the future of motorcycling. As the world's largest motorcycling rights and event sanctioning organization, the AMA advocates for riders' interests at all levels of government and sanctions thousands of competition and recreational events every year. The AMA also provides money-saving discounts on products and services for its members. Through the AMA Motorcycle Hall of Fame in Pickerington, Ohio, the AMA honors the heroes and heritage of motorcycling. For more information, visit
www.americanmotorcyclist.com
. Not a member? Join the AMA today:
www.americanmotorcyclist.com/membership/join
.
Was this post helpful? Add yours to our service or subscribe to our feed above.