Courtesy of GNCC Racing
Kailub Russell Races His Way To The Maxxis Cannonball GNCC Overall Win
Toth Makes It Three-in-a-Row in the XC2 250 Pro Division
SPARTA,
Ga. (March 26, 2017) - FMF/KTM Factory Racing's Kailub Russell found himself back on top today, March 26, at the second Annual Maxxis Cannonball GNCC in Sparta, Georgia. The forecasted rain held off for the Round 3 of the AMSOIL Grand National Cross Country (
GNCC
) series presented by Maxxis, an AMA National Championship, creating a rough and tiresome racetrack by the time the world's fastest off-road racers lined up.
After taking the win just two weeks ago, Russell kept the momentum rolling where he claimed the $250 All Balls Racing Holeshot Award once the race was underway. Coastal Racing/Husqvarna's Ryan Sipes didn't let his injury from last race affect him where he ran right behind Russell off the start.
Rockstar Energy/Factory Husqvarna Racing's Thad Duvall was able to make the pass on Sipes before the first eight miles of the six-lap race was complete. Russell, Duvall and Sipes held a huge gap on the rest of the pack, including Beta USA's Jordan Ashburn who was in fourth. The top three may have had a large gap on the rest of the field, but Russell, Duvall and Sipes were wheel-to-wheel as they emerged out of the woods at the nine-mile marker.
SRT/KTM's Steward Baylor, who held second place in points championship, was nowhere to be seen on the first lap. After struggling to get his bike fired up on the start, his competitors had a thirty second lead over him.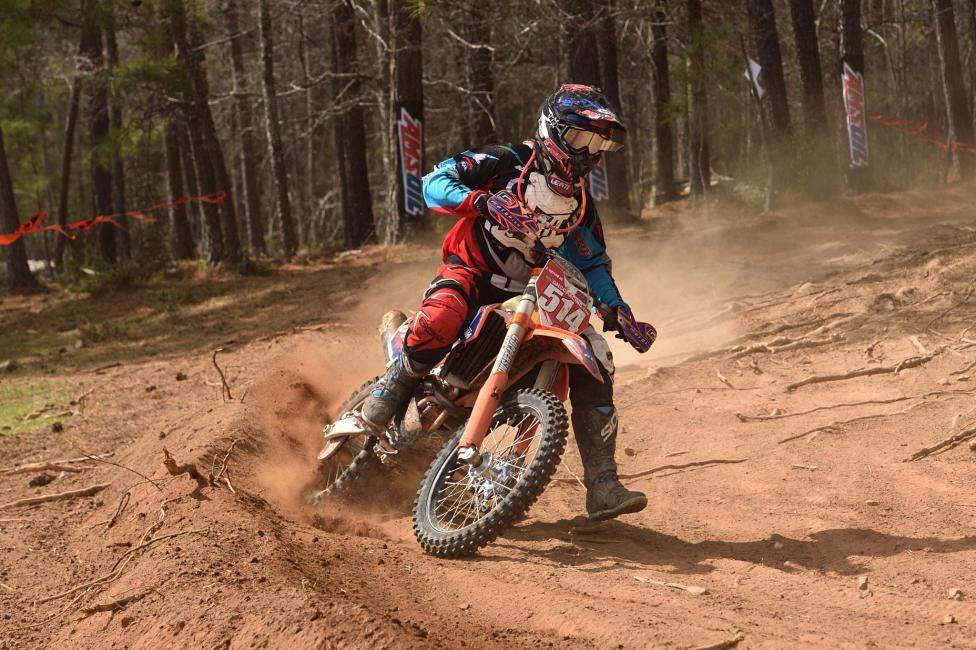 Sipes made quick work in the main field section to pass Duvall and take back second overall. Duvall continued to hang with Sipes, and made the pass again just before they checked through timing and scoring for the first time.
As the second lap wore on, Ashburn continued pushing himself in an attempt to catch the podium contenders, where he shaved off ten seconds. Meanwhile, Baylor worked his way into the top five.
Like the previous round, different pit strategies came into play for Russell and Duvall. As the second lap was coming to a close, Russell headed in for a splash of gas allowing Duvall to inch closer.
Halfway through the race Sipes would find himself dealing with wrist pain from his accident in Florida. Sipes decided to end his race early in hopes of letting his hand have a couple more weeks to heal before the Steele Creek GNCC. Baylor used Sipes' misfortune to his benefit where he took over the third-place position on the third lap. Ashburn continued to keep Baylor honest throughout the remainder of the lap.
With only one lap remaining, Duvall would take the lead for a few miles until making a costly mistake. "I threw away the win. I had a comfortable lead on Russell coming into the white flag. I crashed so hard I'm not even sure what happened," said Duvall.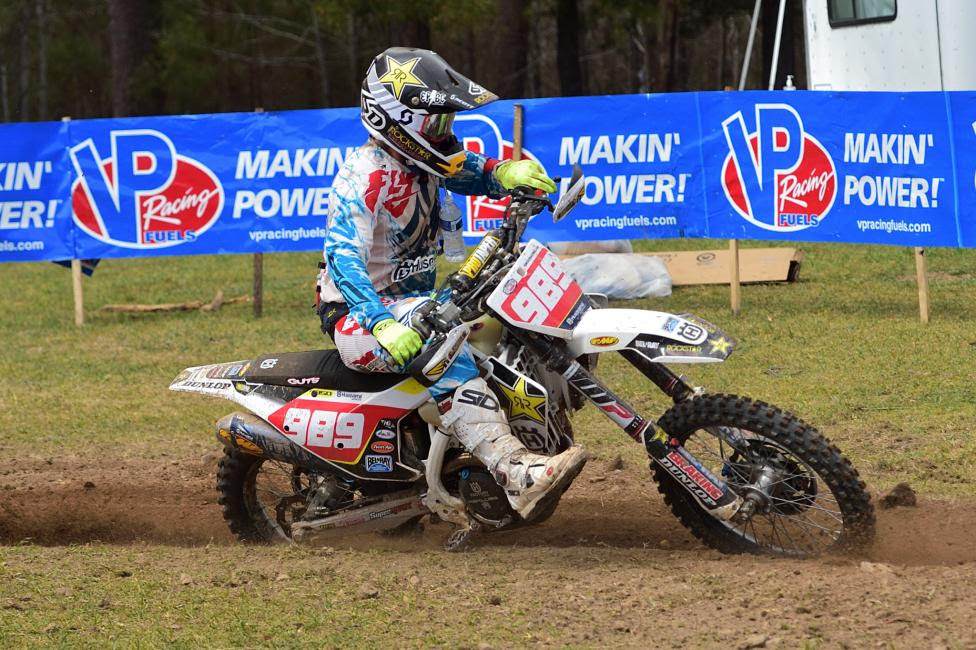 Russell took command of the lead again, but Duvall recovered to still maintain second. Without a front fender or number plate Duvall faced a whole new obstacle the last lap. Russell continued to push through the demanding course to take the win, with his competition, Duvall, recovering to still finish second overall.
"I had bad stomach cramps in South Carolina, and I got them again today," said Russell. "I don't know if it's what I'm taking in my drink bottles during the race or what. I felt okay other than my stomach cramping. I had a crash and Duvall got away, so I felt like I had just blown it right there. I caught up to Duvall and saw he was picking himself up, too. I suffered the entire last lap and I'm not really happy with today. We need to go back to the drawing board and make some changes."
Even though he didn't have sight of the leaders, Baylor continued to ride his own race and challenge himself where he would cross the checkered flag third after his impressive come-from-behind ride.
Ashburn finished just off the podium in fourth, which would score him his best finish of the year. JCR Honda's Trevor Bollinger rebounded from his last race, with fifth overall. After suffering from some lingering injuries, Rockstar Energy/Factory Husqvarna Racing's Josh Strang rode a consistent race for seventh overall.
In the XC2 250 Pro Lites division, Appalachian Offroad Motorcycles' Sam Evans grabbed the $100 Hot Cams XC2 Holeshot Award. N-Fab/AmPro's Josh Toth worked his way through the pack to earn his third straight win of the season. The Cannonball GNCC treated both RPM/KTM's Mike Witkowski and New Jersey's Jesse Groemm well where they finished second and third respectively.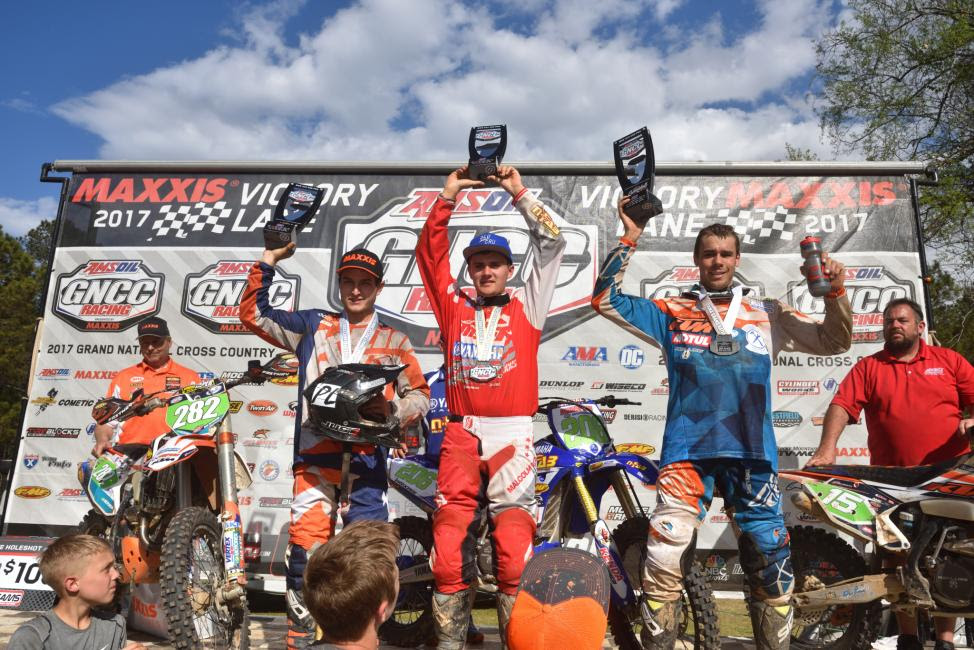 Coastal Racing's Jack Edmondson had an exceptional race where he stood in the middle of the box once again in the FMF XC3 125 Pro-Am class. Edmondson's charge throughout the race earned him tenth overall ahead of many of the XC1 and XC2 competitors. Jason Thomas and N-Fab/AmPro Yamaha's Paul Whibley rounded out the class podium.
The
10 a.m.
race saw a familiar group of ladies on the overall podium. Rocky Mountain ATV*MC/KR4/Husqvarna Team's Tayla Jones saw her way to her third win of the season. Defending champion and Fly Racing/Maxxis/Seat Concepts/KTM-backed Becca Sheets earned second, and Trail Jester's MacKenzie Tricker was third overall.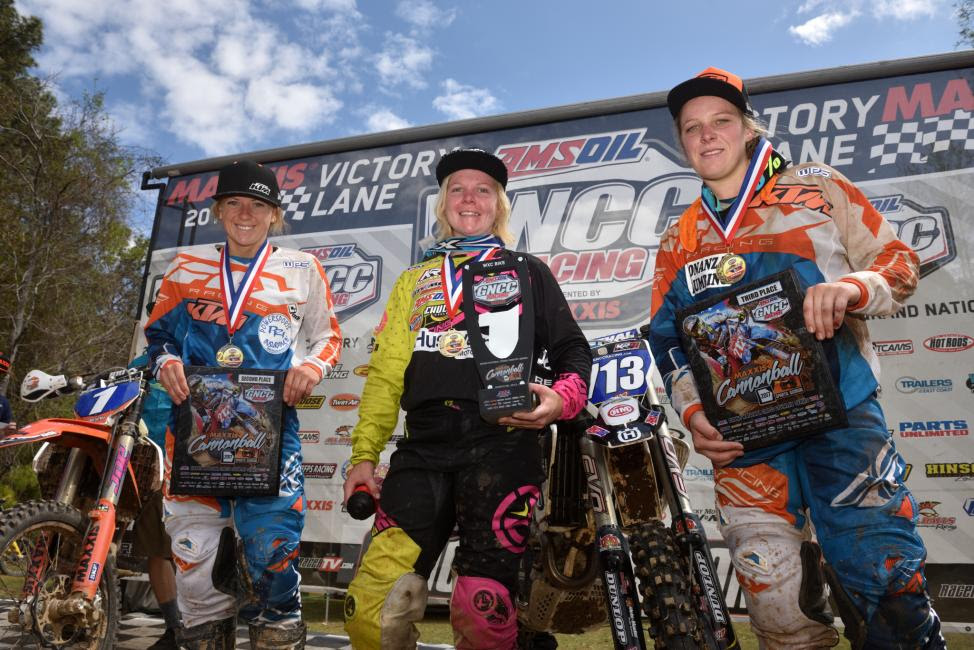 In the
8 a.m.
youth race, Zack Davidson continued his dominance and took the checkered flag one-minute ahead of Peyton Whipkey who finished second. Super Mini Jr. class winner, Michael Beeler Jr. found his way back onto the overall podium in third.
The 2017 AMSOIL GNCC Series resumes
in two weeks
,
April 8 and 9
, with the FMF Steele Creek GNCC in Morganton, North Carolina. A highlight show featuring the Cannonball event will air on the NBC Sports Network on
Sunday, May 28 at 5:30 p.m.
For more information on the series, visit the official website at
www.gnccracing.com
or call
(304) 284-0084
. Join the conversation on the series
Facebook
page, follow us on
Twitter
and
Instagram
, and be sure to always hashtag #GNCC.
Maxxis Cannonball GNCC
Sparta, Georgia
Round 3 of 13
Sunday
, March 26
XC1 Open Pro Event Results:
Kailub Russell (KTM)
Thad Duvall (HSQ)
Steward Baylor (KTM)
Jordan Ashburn (YAM)
Trevor Bollinger (HON)
Josh Strang (HSQ)
Ricky Russell (YAM)
Grant Baylor (HSQ)
Chris Bach (KTM)
Cory Buttrick (KTM)
*Overall National Championship Standings:
Kailub Russell (85)
Steward Baylor (72)
Thad Duvall (50)
Josh Toth (48)
Ricky Russell (43)
Chris Bach (38)
Trevor Bollinger (32)
Russell Bobbitt (31)
Grant Baylor (30)
Mike Witkowski (30)
*
Indicates that the Overall National Championship Standings will determine the 2017 National Champion.
XC2 250 Pro Event Results:
Josh Toth (YAM)
Michael Witkowski (KTM)
Jesse Groemm (KTM)
Zack Hayes (KTM)
Trevor Barrett (YAM)
Craig Delong (HSQ)
Evan Smith (KTM)
Austin Lee (HON)
Layne Michael (HSQ)
Brendan Riordan (YAM)
XC2 250 Pro Series Standings:
Josh Toth (90)
Craig Delong (61)
Mike Witkowski (58)
Layne Michael (58)
Jesse Groemm (52)
Zack Hayes (43)
Austin Lee (41)
Benjamin Kelley (36)
Jesper Borjessen (30)
Trevor Barrett (25)
About GNCC Racing
The AMSOIL Grand National Cross Country Series presented by Maxxis is America's premier off-road racing series. Founded in 1975, the 13-round championship is produced exclusively by Racer Productions. Cross-country racing is one of the most physically demanding sports in the world. The grueling three-hour GNCC races lead as many as 2,400 riders through tracks ranging in length from eight to 12 miles. With varied terrain, including hills, woods, mud, dirt, rocks and motocross sections, GNCC events are tests of both survival and speed. The series draws talent from all over the U.S., Central America, South America, Europe, Japan, Australia and New Zealand. GNCC Racing is televised weekly on NBC Sports and
RacerTV.com
. For more information, please visit
www.gnccracing.com
.
About the American Motorcyclist Association
Founded in 1924, the AMA is a not-for-profit member-based association whose mission is to promote the motorcycle lifestyle and protect the future of motorcycling. As the world's largest motorcycling rights and event sanctioning organization, the AMA advocates for riders' interests at all levels of government and sanctions thousands of competition and recreational events every year. The AMA also provides money-saving discounts on products and services for its members. Through the AMA Motorcycle Hall of Fame in Pickerington, Ohio, the AMA honors the heroes and heritage of motorcycling. For more information, visit
www.americanmotorcyclist.com
. Not a member? Join the AMA today:
www.americanmotorcyclist.com/membership/join
.
Was this post helpful? Add yours to our service or subscribe to our feed above.