Courtesy of GNCC Racing
AMSOIL GNCC Racing Continues with Round Two This Weekend
MORGANTOWN,
W.Va (
March 10, 2017
) - After an intense race just one week ago, the 2017 AMSOIL Grand National Cross Country (
GNCC
) Series presented by Maxxis, an AMA National Championship, continues this weekend,
March 11 and 12
, in Palatka, Florida. The Moose Racing Wild Boar GNCC will play host to the second race of the 13-round series.
Held annually in conjunction with Daytona Beach's "Bike Week" festivities, the Wild Boar GNCC always draws a unique and large crowd. Industry personnel, long-time series followers and local race enthusiasts will all gather
this Sunday
to watch the dramatic GNCC series continue. Just one week ago, SRT/KTM's Steward Baylor made quite the statement when he took his first career overall win and captured the early points lead. Baylor's training regimen for this season has paid off, and as the season continues Baylor will be looking to up his consistency as well.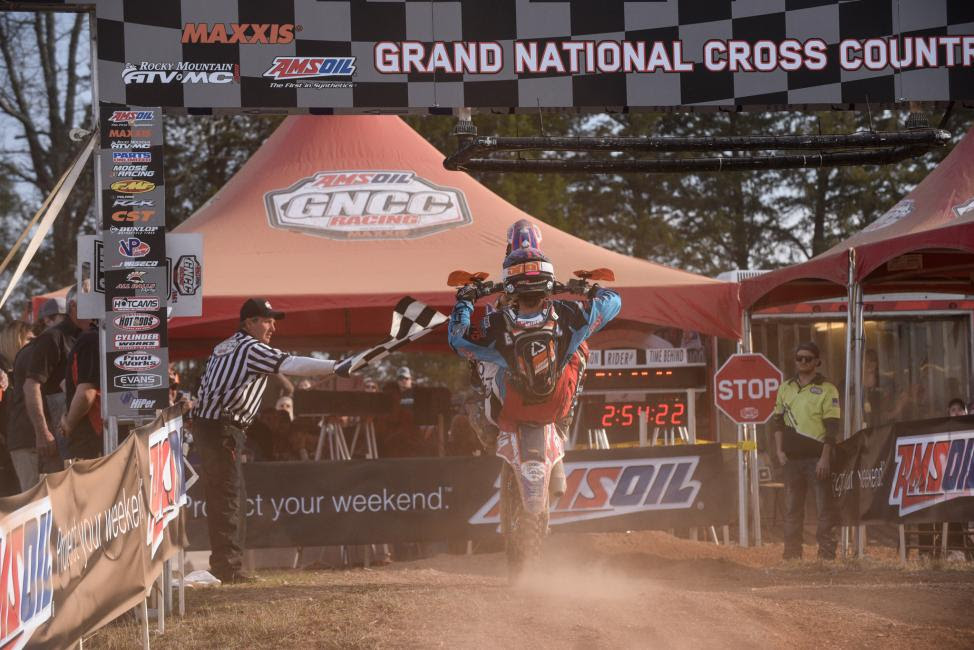 One rider who knows that consistency is the key to championships is FMF/KTM Factory Racing's Kailub Russell. After crediting five national titles to his name, Russell remains a top contender for the win this weekend. Russell's personal track is located just a few short miles from the Wild Boar GNCC, and he will be looking to capitalize on his practice time and return to his winning ways
this Sunday
.
Coastal Racing's Ryan Sipes started his season off on right foot last weekend. Sipes seaon-long battle with injuries looks to finally be over, and his battles on the track are heating up. With the Sunshine State forecasting the highest temperatures the racers have saw so far this year, Sipes and the rest of the field will face an added obstacle to the already rough and rutted sands the Wild Boar GNCC offers.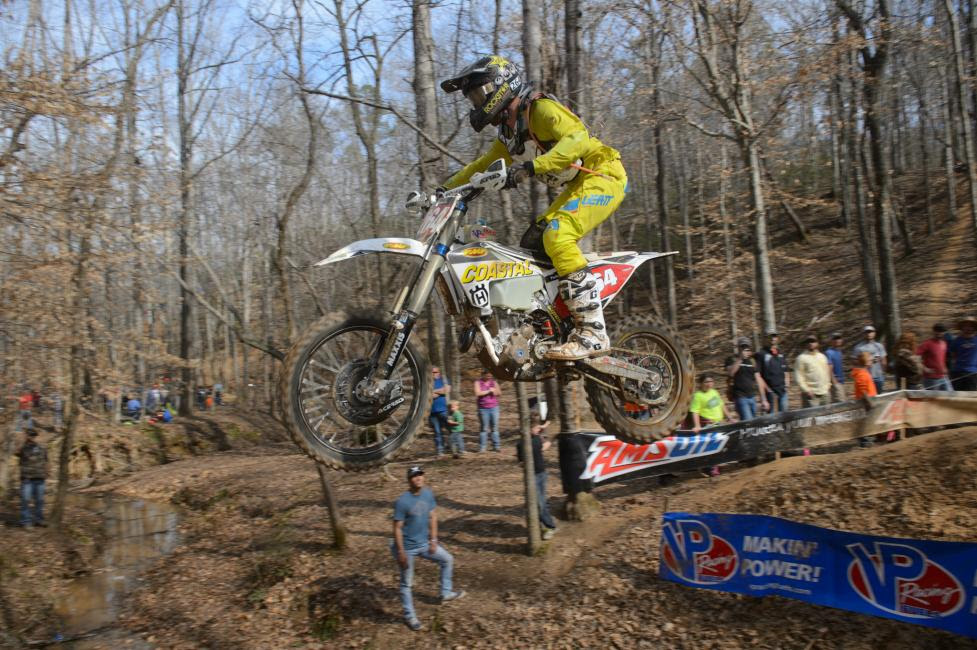 JCR Honda's Trevor Bollinger spent much of his off-season training in California, which could pay off this weekend. Bollinger finished fourth in this XC1 Pro debut and will be looking to showcase the skills he learned this winter and steal a spot on the overall podium
on Sunday
.
N-Fab/AmPro Yamaha's Ricky Russell had a stand out performance at the season opener where he placed just outside of the top five overall in sixth. After making multiple podium appearances last year, once R Russell gets fully adjusted to his new team it won't be long until the Yamaha-mounted rider makes his return to the box.
As he continues to get more GNCC races on his resume, FMF/KTM Factory Racing's Russell Bobbitt is one to keep an eye on. Bobbitt's last race resulted in consistent lap times, that improved as the three-hour race wore on. Racers will face one of the most difficult and strenuous tracks on the circuit this weekend, and Bobbitt will look to use his Enduro background to outshine the rest and make his first ever GNCC overall podium.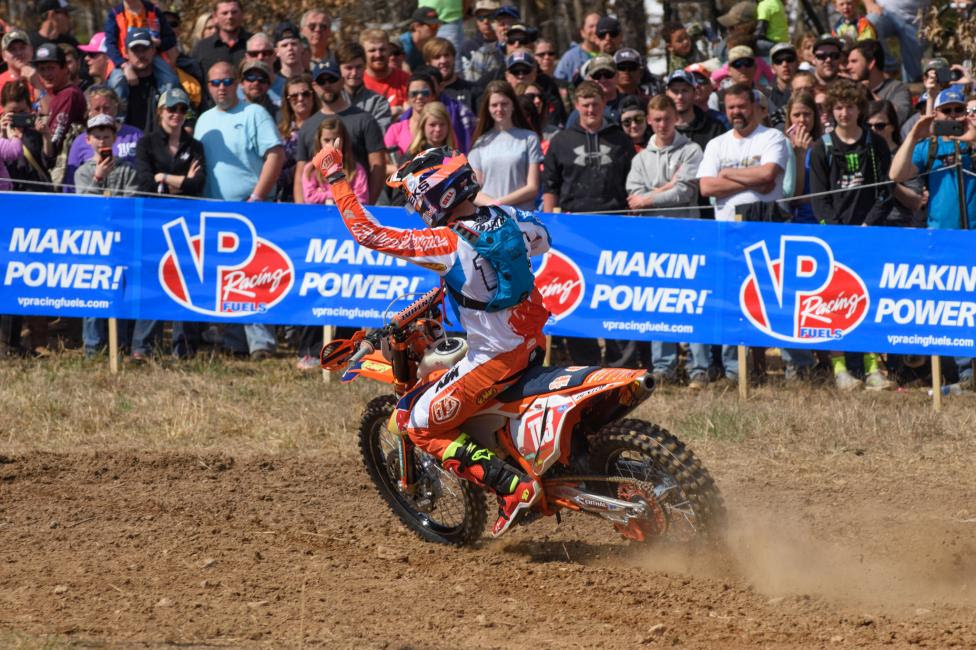 Sunday's
race schedule is as follows: Youth Bike racing begins at
8 a.m.
, followed by amateurs and women at
10 a.m.
and pros and top amateurs at
1 p.m.
Adult (12+) gate admission is $20 for the full weekend and $10 for kids (6-11), with kids five and under free. Gate admission includes pro pit access and pro autographs at no additional charge.
All local racers are invited to compete at the Wild Boar GNCC, as GNCC Racing offers classes for riders of all skill and experience levels. The amateur race entry fee $50 when riders sign up at the track. To learn more about GNCC Racing please visit the
GNCC101
webpage.
Local racers expected to compete
this Sunday
will be Ben Parsons (Open A), Jesse Ansley (250 A), Gunner Williams (85 7-11), Andrew Foster (Super Mini Jr. 12-13), Rick Panetti (Super Senior B 45+), Alexander Goss (Super Mini Jr. 12-13), brothers Justin (250 C Schoolboy 14-17) and Korbin Dinkel (85 7-11), Kelly Laborde (Senior B 40+), Dylan Rash (XC2 250 Pro), Emmanuel Fellouzis (250 C Junior 25+), Bonnie Benard (Women B), Bryce Koster (Open A), Thomas Thompson (250 B), Shelby Dunson (Senior A 40+), Daniel Dunson (Open B), Chanelle Neff (Women B), Cash Jacobs (200 A), and Blake Yahraus (Super Mini Jr. 12-13).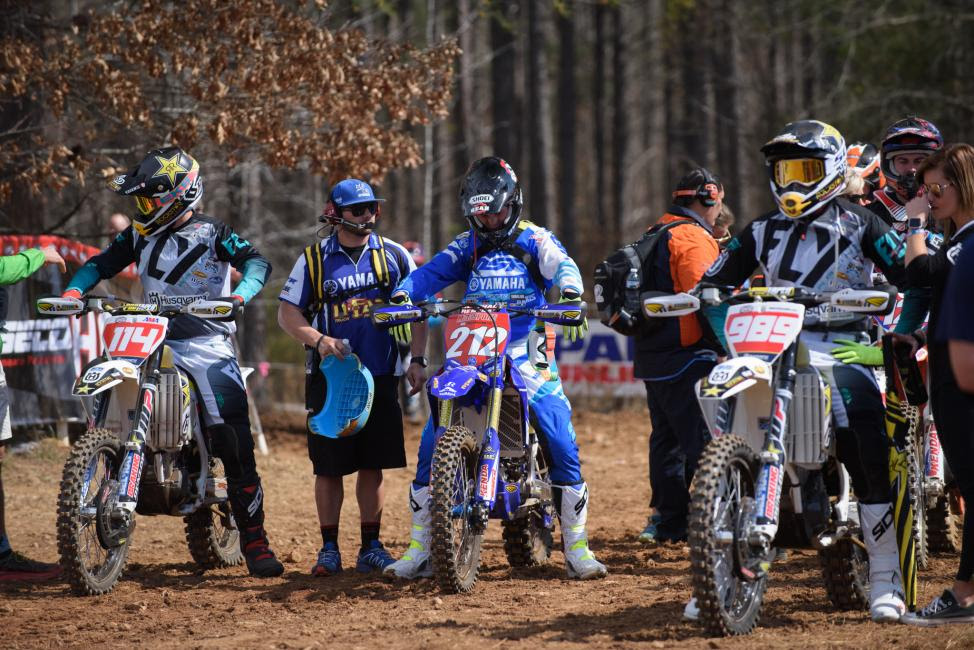 Tune in to RacerTV.com
on Saturday
at
1 p.m. EST
to catch LIVE streaming of the Pro Bike race. For more information on GNCC LIVE coverage, visit
www.racertv.com
. A highlight show featuring the event will air on NBC Sports Network on Saturday, April 29, at
5:00 p.m.
The 2017 AMSOIL GNCC Series heads to Palatka, Florida this weekend, March 4 and 5, for the VP Racing Fuels Big Buck GNCC. For a complete schedule of the weekend's activities, please visit the Wild Boar GNCC event page on the series website by clicking
HERE
.
Previous Round Results and Points Standings
VP Racing Fuels Big Buck GNCC
Union, South Carolina
Round 1 of 13
Sunday, March 5
XC1 Open Pro Event Results:
Steward Baylor Jr. (KTM)
Kailub Russell (KTM)
Ryan Sipes (HSQ)
Trevor Bollinger (HON)
Ricky Russell (YAM)
Russell Bobbitt (KTM)
Chris Bach (KTM)
Grant Baylor (HSQ)
Jordan Ashburn (BET)
Cory Buttrick (KTM)
*Overall National Championship Standings:
Steward Baylor Jr. (30)
Kailub Russell (25)
Ryan Sipes (21)
Josh Toth (18)
Trevor Bollinger (16)
Ricky Russell (15)
Russell Bobbitt (14)
Layne Michael (13)
Chris Bach (12)
Grant Baylor (11)
*Indicates that the Overall National Championship Standings will determine the 2017 National Champion.
XC2 250 Pro Event Results:
Josh Toth (YAM)
Layne Michael (HSQ)
Craig Delong (HSQ)
Michael Witkowski (KTM)
Austin Lee (HON)
Benjamin Kelley (KTM)
Chris Venditti (YAM)
Jesse Groemm (KTM)
Ryder Lafferty (KTM)
Zack Hayes (KTM)
XC2 250 Pro Series Standings:
Josh Toth (30)
Layne Michael (25)
Craig Delong (21)
Michael Witkowski (18)
Austin Lee (16)
Benjamin Kelley (15)
Chris Venditti (14)
Jesse Groemm (13)
Ryder Lafferty (12)
Zack Hayes (11)
About GNCC Racing
The AMSOIL Grand National Cross Country Series presented by Maxxis is America's premier off-road racing series. Founded in 1975, the 13-round championship is produced exclusively by Racer Productions. Cross-country racing is one of the most physically demanding sports in the world. The grueling three-hour GNCC races lead as many as 2,400 riders through tracks ranging in length from eight to 12 miles. With varied terrain, including hills, woods, mud, dirt, rocks and motocross sections, GNCC events are tests of both survival and speed. The series draws talent from all over the U.S., Central America, South America, Europe, Japan, Australia and New Zealand. GNCC Racing is televised weekly on NBC Sports and
RacerTV.com
. For more information, please visit
www.gnccracing.com
.
Was this post helpful? Add yours to our service or subscribe to our feed above.