Courtesy of GNCC Racing
Thad Duvall Finishes in a Close Second, Steward Baylor in Third
Palatka,
Fla. (March 12, 2017) - Palatka, Florida hosted the second round of the 2017 AMSOIL Grand National Cross Country Series (
GNCC
) presented by Maxxis, an AMA National Championship today, March 12, at the Rodman Plantation. At the end of the rainy three-hour race, it was FMF/KTM Factory Racing's Kailub Russell who stood atop of the podium victorious at the Moose Racing Wild Boar GNCC.
While K Russell jumped out to grab the early lead and the $250 All Balls Racing XC1 Open Pro Holeshot Award, it was N-Fab/AmPro Yamaha's Ricky Russell who lead the way for majority of the first lap. Shortly after the race began, conditions took a turn for the worst when heavy rain started. Although rain was forecasted, in the minutes leading up to the start the skies were clear and temperatures were warm. Many of the riders were optimistic and weren't properly prepared for the sudden change in weather.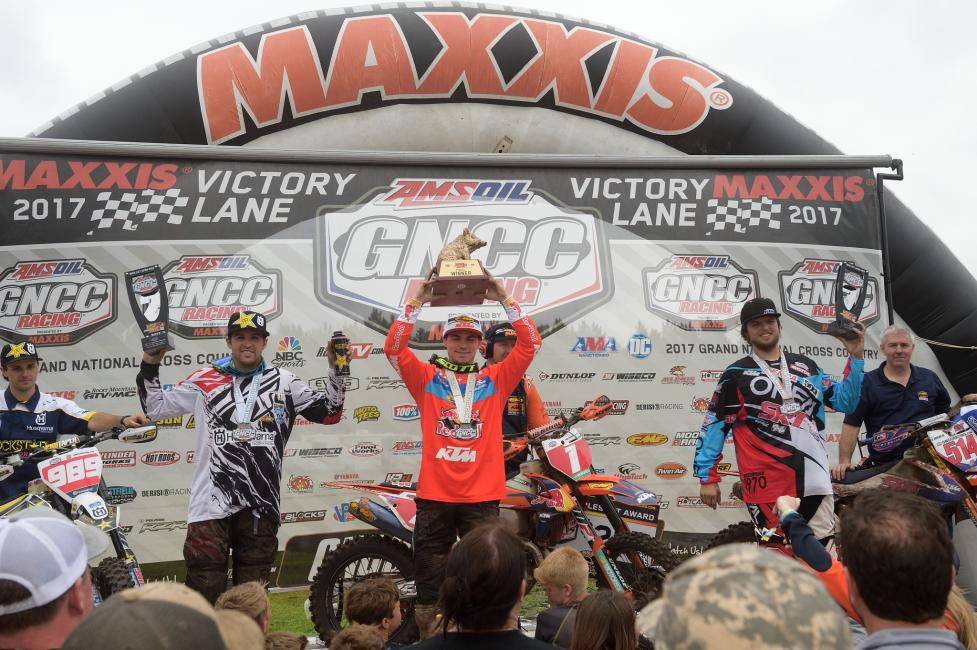 JCR Honda's Trevor Bollinger had a late start after his chain fell off on the starting line. As the top five completed the first lap, they had a large gap on Husqvarna-mounted rider Tyler Medaglia who was sitting in the sixth place position. R Russell continued to lead the way, while his opponents swapped positions behind him. R Russell began to feel pressure from Coastal Racing/Husqvarna's Ryan Sipes.
The second lap saw quite the shake-up where Rockstar Energy/Factory Husqvarna Racing's Thad Duvall took over second and Sipes fell back to fourth. Throughout the entirety of the race, different pit strategies were put to the test. When the race reached the halfway point, the top five riders pitted with the exception of K Russell, where he managed to go from fourth to second in the short span of the VP Racing Fuels Pro Row. After avoiding the stop, K Russell made quick work to make the pass on Duvall.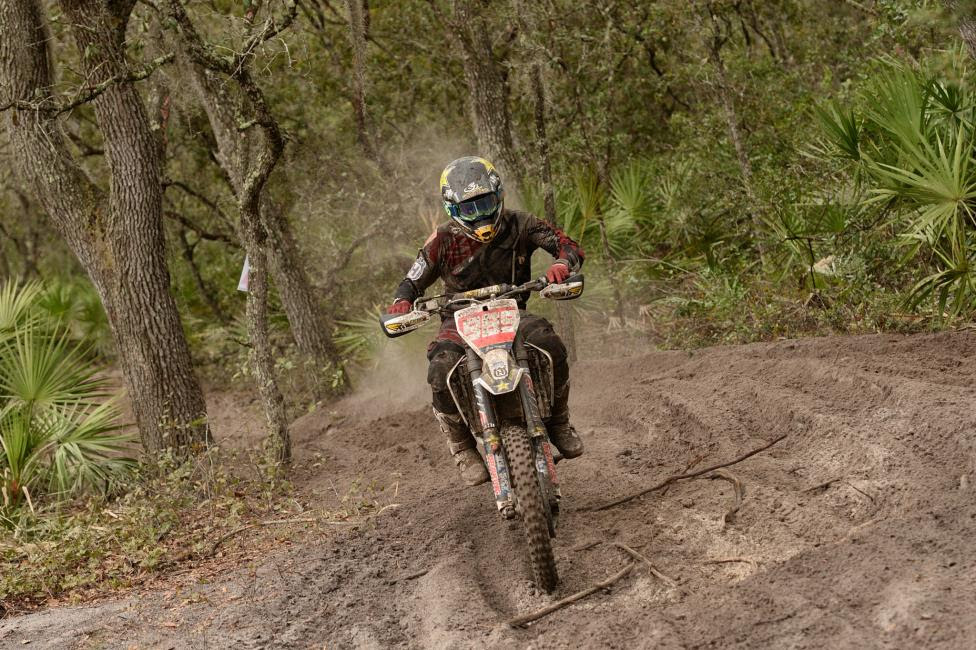 Once the two-lap card was out Sipes was overseeing the final podium position, even after being stuck behind some lapped riders in the infamous Hog Waller mud hole. Even more bad luck would plaque Sipes later in the same lap. Shortly after the FMF Powerpoint, Sipes came together with a lapped rider and went down. Unfortunately, when Sipes went down the front of his hip made contact with the foot peg. Sipes immediately got back up and took off charging hard, but the brutality of the pain would be too much, and Sipes was forced to pull off the track and request help. Coastal Racing team manager, Barry Hark, reported that, "At this point we know nothing is broken, but Sipes is bruised pretty severely."
With the focus being on who was going to land a spot on the podium, SRT/KTM's Steward Baylor quietly worked his way through the pack to a top-five position on the fourth lap. Even with a few tip overs himself, Baylor took advantage of Sipes misfortune and slid into third with two laps remaining.
Duvall continued to hang right with the four-time GNCC champion, K Russell, where the pair battled wheel-to-wheel on the last lap. As they continued to push each other, they lost sight of Baylor in third. Russell would end up crossing the line victorious, a mere two seconds ahead of Duvall in second. Baylor held onto third, earning his second podium of the year.
"I was kicking myself for not putting roll-off goggles on in the beginning. I saw the clouds coming and I was optimistic, but it started pouring on the first lap," said Russell. "I just started pulling tear-offs left and right and then I couldn't see because of the mud and water in my goggles. I fell over and made a few mistakes, and got passed by a few of the guys, but the rain helped keep the track intact."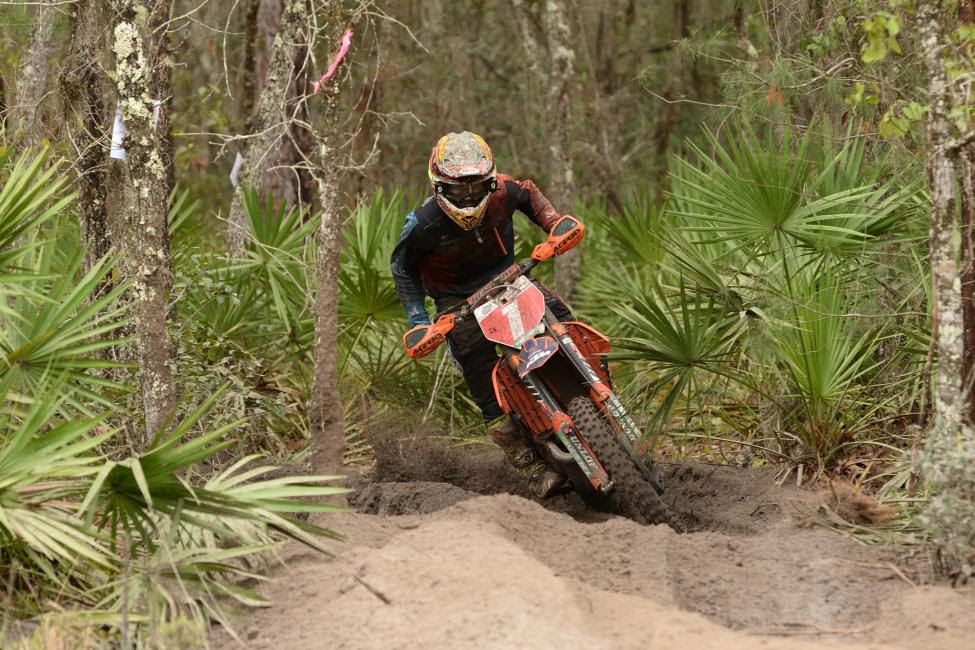 RPM/KTM-backed Chris Bach had his best ride of the season where he finished just off the podium in fourth. R Russell scored fifth overall for the second straight week. FMF/KTM Factory Racing's Russell Bobbitt battled a head cold to finish an impressive eighth overall.
N-Fab/AmPro Yamaha's Josh Toth extended his win stream to two-in-a-row in the XC2 250 Pro class. Coastal Racing/Husqvarna teammates Craig Delong and Layne Michael rounded out the class podium.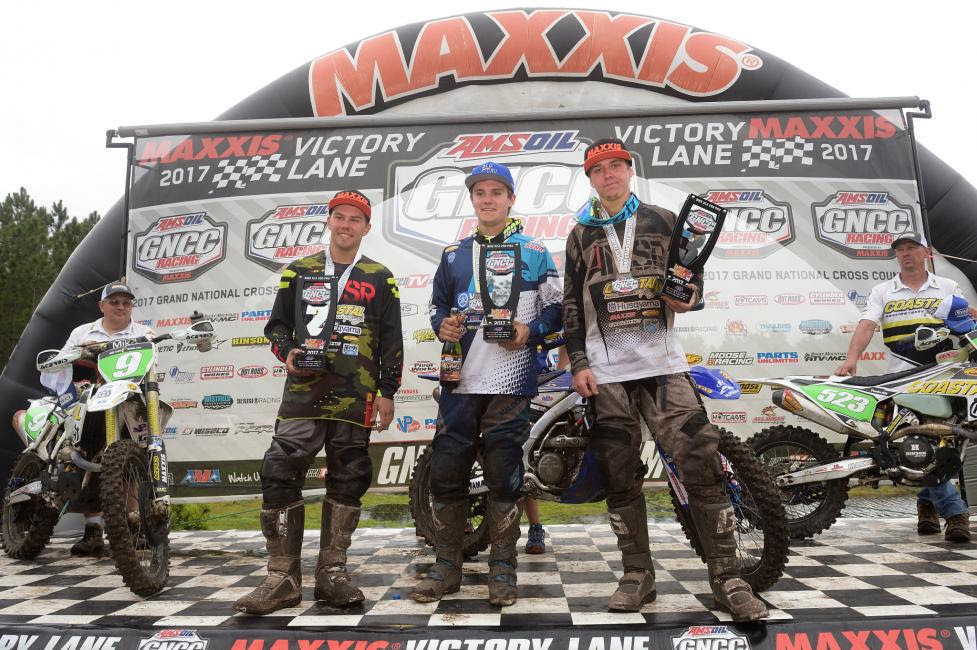 The FMF XC3 125 Pro-Am class saw similar faces on the box. Coastal Racing/Husqvarna's Jack Edmondson took home another win, with N-Fab/AmPro Yamaha's Paul Whibley and Jason Thomas following.
Hometown hero, RPM/KTM-backed Jesse Ansley, claimed top amateur honors with his 22nd overall finish. Cody Barnes and Alex Teagarden were the second and third amateur riders in the
1 p.m.
race.
The WXC class dominated the
10 a.m.
race and the overall podium consisted of Rocky Mountain ATV*MC/KR4/Husqvarna's Tayla Jones, Trail Jesters' McKenzie Tricker and Fly Racing/Maxxis/Seat Concepts/KTM's Becca Sheets.
Zack Davidson continued his success and topped the youth overall podium at the conclusion of the first race of the day - the
8 a.m.
youth race. Ryder Leblond placed second, and Super Mini Jr. class winner, Michael Beeler Jr., rounded out the overall podium.
The 2017 AMSOIL GNCC Series resumes
in two weeks
,
March 25 and 26
, with the Second Annual Maxxis Cannonball GNCC in Sparta, Georgia. A highlight show featuring the Wild Boar GNCC event will air on the NBC Sports Network on
Saturday, April 29 at 5:00 p.m.
Moose Racing Wild Boar GNCC
Palatka, Florida
Round 2 of 13
Sunday
, March 12
XC1 Open Pro Event Results:
Kailub Russell (KTM)
Thad Duvall (HSQ)
Steward Baylor (KTM)
Chris Bach (KTM)
Ricky Russell (YAM)
Russell Bobbitt (KTM)
Grant Baylor (HSQ)
Tyler Medaglia (HSQ)
Cory Buttrick (KTM)
Vance Francis (HON)
*Overall National Championship Standings:
Kailub Russell (55)
Steward Baylor Jr. (51)
Josh Toth (33)
Ricky Russell (31)
Chris Bach (30)
Russell Bobbitt (27)
Thad Duvall (25)
Layne Michael (25)
Craig Delong (24)
Ryan Sipes (21)
*Indicates that the Overall National Championship Standings will determine the 2017 National Champion.
XC2 250 Pro Event Results:
Josh Toth (YAM)
Craig Delong (HSQ)
Layne Michael (HSQ)
Jesse Groemm (KTM)
Drew Higgins (BET)
Michael Witkowski (KTM)
Zack Hayes (KTM)
Benjamin Kelley (KTM)
Austin Lee (HON)
Jesper Borjessen (HSQ)
XC2 250 Pro Series Standings:
Josh Toth (60)
Craig Delong (46)
Layne Michael (46)
Michael Witkowski (33)
Jesse Groemm (31)
Austin Lee (28)
Benjamin Kelley (28)
Zack Hayes (25)
Jesper Borjessen (20)
Samuel Evans (17)
About GNCC Racing
The AMSOIL Grand National Cross Country Series presented by Maxxis is America's premier off-road racing series. Founded in 1975, the 13-round championship is produced exclusively by Racer Productions. Cross-country racing is one of the most physically demanding sports in the world. The grueling three-hour GNCC races lead as many as 2,400 riders through tracks ranging in length from eight to 12 miles. With varied terrain, including hills, woods, mud, dirt, rocks and motocross sections, GNCC events are tests of both survival and speed. The series draws talent from all over the U.S., Central America, South America, Europe, Japan, Australia and New Zealand. GNCC Racing is televised weekly on NBC Sports and
RacerTV.com
. For more information, please visit
www.gnccracing.com
.
Was this post helpful? Add yours to our service or subscribe to our feed above.